Simina Boca, Ph.D. joins Biostatistics Faculty as Secondary Appointment
Posted in DBBB Stories News | Tagged 2015, faculty news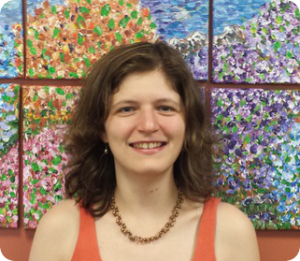 (April 2015) – Simina Boca, Ph.D., joined the department in April 2015 as a secondary appointment. Dr. Boca received a Ph.D. in Biostatistics and an M.H.S. in Bioinformatics from the Johns Hopkins Bloomberg School of Public Health in 2011. She then held a postdoctoral fellowship in the Biostatistics Branch of the Division of Cancer Epidemiology and Genetics at the National Cancer Institute.
Dr. Boca is a faculty member in the Innovation Center for Biomedical Informatics (ICBI), holding a primary appointment in the Department of Oncology. She is also a member of the Cancer Prevention and Control Program within the Lombardi Comprehensive Cancer Center at Georgetown University Medical Center.
Dr. Boca's research primarily focuses on the development of methods and tools for the analysis of "omics" data, including genomics and metabolomics, especially as they relate to cancer. Further areas of substantive interest include cancer epidemiology and population genetics. Her research in oncology includes work on identifying genes and gene sets that are drivers of tumor development and on the link between diet, metabolites, and cancer risk. Her statistical interests include set-level analysis, multiple testing approaches, permutation methods, and meta-analysis.