Give A Gift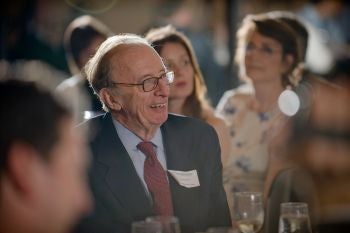 Edmund Gehan Scholarship
The Edmund Gehan Scholarship Fund was started in 2009 in honor of Dr. Edmund Gehan, Emeritus Professor of Biostatistics, Georgetown University.
Dr. Gehan has more than 25 years experience as a biostatistician collaborating with cancer research investigators at the NCI, The University of Texas M. D. Anderson Cancer Center and, since 1994, at the Georgetown University Medical Center. He is an elected member of the International Statistical Institute, a Fellow of the American Statistical Association and has held the office of President of the International Biometric Society (Eastern North American Region) and the International Society of Clinical Biostatistics. He has more than 200 statistical and collaborative publications with research scientists, including first authorship of the text: Statistics in Medical Research: Developments in Clinical Trials (1994). He has made important contributions to biostatistical methodology in survival analysis, Phase II clinical trials, and prognostic factor studies. He has served on the Editorial Board of Statistics in Medicine and as a Statistical Editor of the Journal of the National Cancer Institute. Areas of specific interest are: collaboration with research scientists on cancer research projects, biostatistical methodology, survival analysis, and prognostic factor studies.
The fund awards merit-based scholarships to recognize students for outstanding academic achievement. It is established to encourage students to pursue excellence, be reflective lifelong learners, and live generously in service to others.
Your entire gift will be used by the Edmund Gehan Scholarship Fund to benefit students. The fund is managed by the Department of Biostatistics, Bioinformatics and Biomathematics, Georgetown University Medical Center.
How to Donate
To make your Gift Online, please use the secure Georgetown University Online Giving Form.  Please be sure to select "Other Designation" in the menu and type in "Dept. of Biostatistics – Gehan Scholarship Fund".
Donations to the fund can also be made at any time using the scholarship donation form (new window). Check or Credit Card are accepted.
Please mail the form with donation to the following address:
Department of Biostatistics, Bioinformatics, and Biomathematics
Attn: Gehan Scholarship Fund
4000 Reservoir Rd, NW
Building D, Suite 180
Washington, DC 20057-1484
For more information on the Gehan Scholarship Fund, please email Minnie An (ma554@georgetown.edu)