Huiqi Zhuang, (Biostatistics, MS 2016)
Posted in Student Spotlight Student Stories | Tagged alumni, MS, students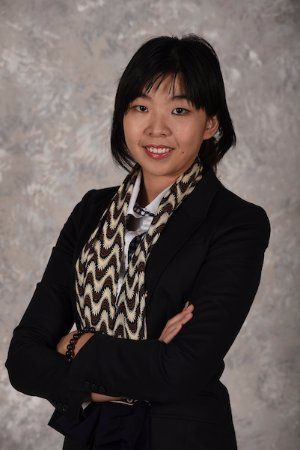 Huiqi (Vicky) Zhuang graduated with an MS in Biostatistics in 2016 and earned a BS in Nutrition and Food Science from the University of Maryland, College Park in 2014. Currently, she works as a Biostatistician and Data Analyst in Behavioral Risk Factor Surveillance System (BRFSS) in the DC Department of Health.
How did you get interested in studying Biostatistics? What was your background before Georgetown University?
My intern project was related to food science data. At that time, I felt it will be great if I could change my major into statistics because I found that I was more interested in statistics and data science. Thanks to a friend from Southern Medical University, I learned about Georgetown's Biostatistics MS program. After talking to Dr. Korostyshevskiy [Director of Graduate Studies], I decided to submit my application. The information provided from the program was clear and helpful. I believed that I could do it and that Georgetown will help my career.
What did you love most about the MS program?
The courses in the Biostatistics Master's Program are great. The course setting is great for job searching after graduation. I have applied most of the knowledge from my Master's study to my current work. The faculty members are friendly and helpful. The [Research] Practicum…was also a great opportunity for a student to understand research and communicate [one-on-one and learn to collaborate] with a faculty member. I also have applied what I learned from Practicum to my current work.
What was challenging about the program?
Changing your major is never easy. My undergraduate major was [in Food Science,] not statistics. The first semester was the hardest time for me because I was trying to catching up. Thanks to the faculty's help and the office hours, I did a good job in the second…and third semesters.
Please describe your current work and job responsibilities.
I am working in the DC Department Health, Center of Policy Planning and Evaluation. The main goal is to understand the risk factors and disease rates in DC in order to prevent disease outbreaks and prevent death in Washington, DC. Therefore, I analyze the data from BRFSS records from DC and create fact sheets, reports and so on. Furthermore, I also work in data visualization to help the public to understand the BRFSS data easily. I am working on combining the BRFSS records and vital records to predict the death rates and prevent death.
How do you use what you learned in our program in your current work?
Currently I am using the weighted chi-square-test, weighted logistic regression, epidemiology, and machine learning (random forests). [What I learned in class from writing statistics reports, oral presentations, and teamwork [are skills I use in my work]. What I learned from Georgetown is the base and it has inspired me to create new methods to solve statistics problems. It helps us to know the health status of the residents in Washington DC and to improve their health.
What advice would you give to current and prospective students?
Enjoy the graduate study and work hard. The courses are super helpful in your future job.
Try to talk to Faculty members and Alumni to understand better which career path is the best for you.
Utilize the resources of Washington, DC. DC is a great city for Data Scientists and Statisticians. Not only are there [many] government agencies here, but also a lot of start-up Bio-companies and Hi-tech companies. Therefore, if there is any chance, sign up for a meetup in Data Science and introduce yourself to others.
Do you plan to apply for a PhD program in Biostats? Why?
Yes, [I hope to] be in a part-time [PhD] program this year. Working on the government data [has been] a huge resource. I feel PhD knowledge could help me better utilize the data and help my career development.
Anything else you'd like to add?
A lot of government agencies love GU students. Go Hoyas!
What is your favorite hobby?
I like outdoor activities, like kayaking under key bridge. Also, I like going to Foggy Bottom for Data Science Meetups and going to Metro-Center for Broadway shows (lottery ticket is the best thing in the world!).
Where would you love to travel to?
Bahamas
Any other interesting information you'd want to share with us?
DC Department of Health and DC government needs a lot of public health analysts, epidemiologists, statisticians, and data analysts. Check our DCHR website. (OPT is fine)
DC government opens the Summer Intern Program every year. You can submit your application from Feb. – April. [However,] you must be [available to work] from May 24th to the end of August (CPT is fine).
If you like Data Science, let's play Kaggle together! I have gotten into the finals before.
Updated March 2018